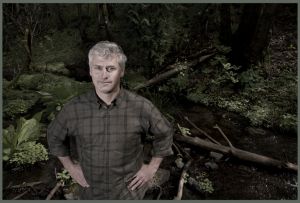 Meet Chris Runyard!
This week, I shot a promotional portrait for the upcoming, Annual Johnson Creek Watershed Council Lunch.  One of the things I love most about what I do is meeting larger-than-life people, and I came away from  meeting Chris Runyard, the featured speaker at the May 23 lunch, convinced that he needed a biographer, not a blogger.
Here's a snapshot:  in 2000, Chris wanted to do something to make sure the Three Creeks Natural Area in Milwaukie would not fall victim to a proposed county road.  The Natural Area was just 89 acres in size, but like many small plots of urban wilderness, offered a significant biological buffer against the intrusion of the city population bordering Mt. Scott Creek.
So Chris organized the Tsunami Crew, a bunch of dedicated neighborhood volunteers who formed a not-so-huge human buffer to protect and maintain the Three Creeks Natural Area.  Chris figured out how to leverage the small group's contribution.  The Tsunami Crew partnered with Friends of Trees, together planting some 10,000 new trees in the Natural Area, working some 6500 hours, and hauling huge amounts of garbage out of Mt. Scott Creek.
The effort led to a local documentary film on the fight to save Three Creeks, called The Lonely Tree and featuring Chris in the much-deserved role of protagonist.
Chris's passion for partnering on environmental initiatives led him to seek a political platform, a quest that led to a campaign for a board seat on the East Multnomah Soil and Water Conservation District in 2004.  A couple of years later, he founded Happy Fish Retoration Landscaping, contracting with city and watershed entities to restore small areas of sensitive urban habitat, a business he continues today.
And at home, no surprise at all, Chris collects rain water, uses solar energy to heat domestic water as well as generate power, gardens organically and cultivates a no-water native landscape.
What exactly will Chris talk about  at the Annual Johnson Creek Watershed Council Lunch on May 23?  I'll be there to find out, and blog about, the continuing, excellent adventures of Chris Runyard.
Bruce