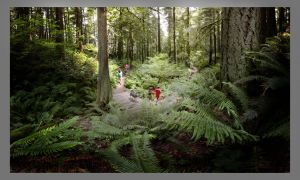 Wild in the City:  Wildwood Trail Revisited
An installation for SELCO, a Willamette Valley credit union locating a new branch in NW Portland, is providing a chance for me to revisit the Forest Park project and to re-interpret locations that made it into the original show, A Year in the Long Life of Forest Park (World Forestry Center, Summer of 2008).
This location, at the extreme north end of Wildwood Trail, is a favorite.  Not only does the trail pass through a wonderful horseshoe bend not far from Newberry Road, but the spot is located in one of the best preserved ecologies of the park, densely populated with douglas fir and thick carpets of sword fern.
On this particular sunday, Kirsten Shende, her husband Sameer and their boys Devin and Ravi, joined Kerri Garfield and I for a couple of hours of escape from the weekday routine.  The adults packed gear; the boys raced ahead on the trail to scout the location.
We worked on a complex, nine panel panorama that let the forest show its richness both horizontally and vertically, adding a strangely three dimensional geometry to the completed image.  But the goal was to add one more dimension- the presence of people in a setting arguably remote, natural and wild- and completely contained within the city limits of Portland.
The full interplay of all these themes  was suddenly realized by a splash of sunlight that burned through the cloud cover, just as we were wrapping up the shoot.
More new Forest Park images are in the works for SELCO, with the installation coming to NW Portland  when the Thurman Street branch opens in early Fall.  Hope you get a chance to see it.